When most people think of weddings, they think of big, expensive affairs with plenty of details and frills. But if you're looking to save money on your wedding without sacrificing style, you can create a chic industrial wedding on a budget. It's easy to pull off this look with a few key pieces, and the result will surely be unique and memorable. Keep reading for some tips on how to make it happen!
Industrial wedding ceremony spaces: how to create a unique and elegant wedding ceremony
For couples who want to create a chic industrial wedding on a budget, you can do a few things to make your wedding day unique and memorable. First, think about the overall feel and look you want to achieve for your wedding day. Do you want a more modern take on a traditional wedding? Are you hoping for a rustic and vintage feel? Whatever the vision is for your big day, be sure to keep that in mind when choosing your venue, decor, and other details.
If you're set on having a chic industrial wedding, one of the best ways to save money is by finding an affordable venue that still has all of the charm and character you're looking for. Look for warehouses, factories, or other large spaces that can easily transform into the perfect setting for your wedding. You may even be able to find a space that already has some of the industrial elements you're looking for, like exposed brick or beams. Once you have your venue booked, start thinking about how to use it to your advantage in decor and design.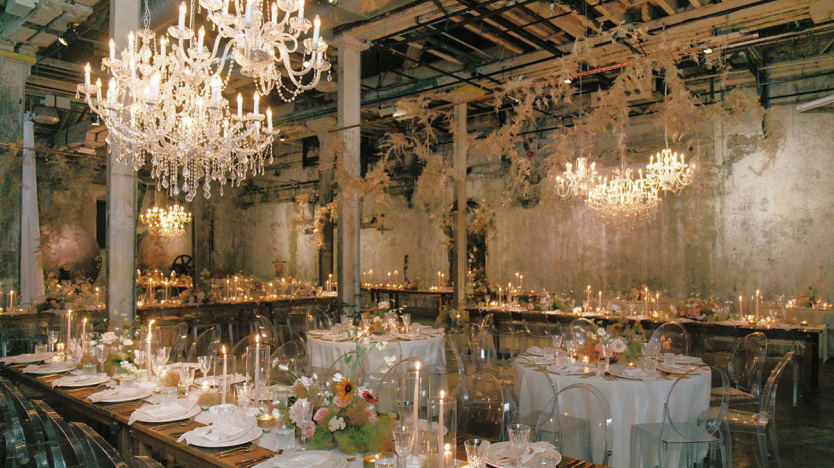 For instance, if you're getting married in a warehouse, consider using string lights or market lights to create an industrial feel throughout the space. Or, set up long tables with mismatched chairs for a more eclectic look. When it comes to the food and drink at your reception, stick with simple and hearty fare that guests will love. Think comfort foods like sliders and mac and cheese or classic dishes with a twist like chicken and waffles. And don't forget to incorporate some industrial elements into your wedding cake! A naked cake with fresh flowers or a rustic buttercream design would be perfect for a chic industrial wedding.
If you're looking for more ways to save money on your big day, consider DIYing your decor or skipping traditional wedding favors in favor of something unique and memorable. Whatever route you choose, remember that a chic industrial wedding can be just as beautiful and special as any other type of wedding… it just takes a little bit more planning!
Industrial wedding decorations: how to add a touch of steampunk style to your big day
If you're looking for a way to add a touch of steampunk style to your industrial wedding, consider using some of these unique decoration ideas. From rustic centerpieces to vintage-inspired lighting, there are plenty of ways to incorporate this trendy style into your big day.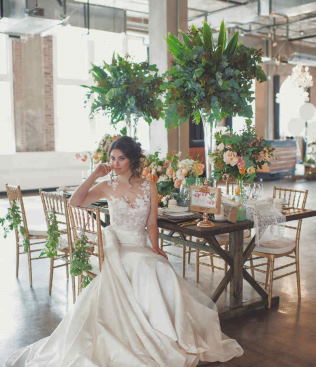 Centerpieces: Try incorporating some vintage finds for a truly unique take on industrial wedding centerpieces. Old mason jars, metal buckets, or even antique clocks can make great statement pieces when filled with fresh flowers or greenery. If you want something a little more modern, try using geometric shapes made out of metal or wood.
Lighting: Industrial-style lighting is all about being unique and different. Ditch the traditional chandeliers and overhead lights in favor of something more unique, like string lights or Edison bulbs. You can even get creative with how you hang them, using pulleys or exposed pipes to create a true one-of-a-kind look.
Furniture: Instead of renting traditional wedding chairs, try using some industrial-style pieces instead. Farm tables, metal stools, or even vintage suitcases can make great seating options for your guests. And for a fun photo op, set up a "throne" made out of an old chair and a few strategically placed steampunk accessories.
Decor: Incorporate steampunk elements into your wedding decor to drive home the theme. Gears, cogs, and other metal accents can be used to create a truly unique look. You can also use old maps, globes, or even vintage clock faces as part of your decor.
These are just a few ideas to get you started. You can easily add a steampunk style to your industrial wedding with creativity.